Won't You Take Me To Funkytown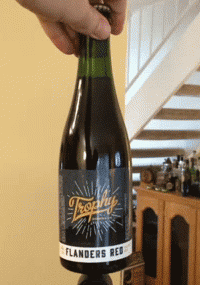 When a brewery or bottle shop schedules a time for you to come line up for a chance to buy a special beer, that's usually a sign that you should get the hell in line.  In this case, we were able to acquire two hard to get NC beers that shared a little funk: Trophy Flanders Red Volume One and Wicked Weed Lusus Naturae Brettanomyces Wild Double IPA.
Theoretically, these should both have some degree of tartness, at least eventually. They were both delicious, but I think we'll be even more impressed when we revisit these down the road.
The Trophy Flanders Red had a nice nose, with hints of cherry. It was slightly tart, but not biting at all. I was surprised at how refreshing it tasted, and was immediately sad when I downed my portion in record time.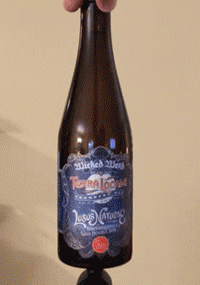 The Wicked Weed Lusus Naturae is a special collaboration beer with Raleigh's Tasty Beverage to celebrate the bottle shop's third anniversary.  This double IPA was wet hopped with 30 lbs of Cascade Hops and dry hopped with an additional 3 lbs per barrel and touched up with Brettanomyces. Since the bottle was only about 2 weeks old when we opened it, it drank more like a wet harvest ale than a Brett IPA. The upfront hoppiness was incredible with just the slightest hint of funk on the finish.
I'm excited to lay a few more of both of these down and wait for the funk to appear in earnest.  Cheers.