Raleigh World Beer Fest 2014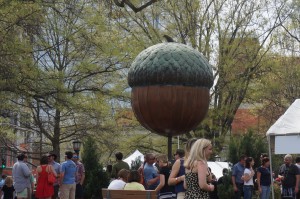 Spring finally seems to have arrive in full force here in the Triangle, much to the delight of all who were in attendance at the World Beer Fest this past Saturday. With temperatures in the 70s, attendees poured into the early session at its usual place in Moore's Square to celebrate the art of beer, which was brought in from all corners of the globe.
This year the entire vibe of the fest felt brand new and refreshing. The old layout seems to have been reconsidered and changed around, resulting in a new layout with more of an open feel. The best part was that all the NC brewers had separate tent/set-ups right smack in the middle of the square. This created a much better flow and allowed people to sample all the great beers we have here in NC.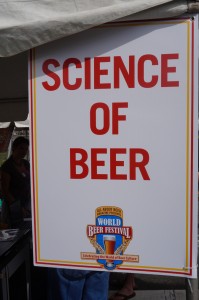 One of my favorite areas was the "Science of Beer". This was a great place to visit and learn about what goes into beer; but even better was the chance to sample "wasp beer". Yes...wasp beer and it was very awesome!
Another area this year that got a major upgrade was the VIP area. To access the VIP area you had to fork over a few more dollars (but let's face it…You were going to spend that on beer anyway, right?) and honestly, it is well worth it. This year it was located off to the side – a step or two away from the main entrance in it's own type of venue. It was great for taking a break and fueling up on some of the food they had just for the VIP area. The VIP area also gave you access to special beers not found out in the main event area and it's even where we found Ponysaurus Brewing and spoke with them for a bit. So if you can go VIP…We recommend it.
Another big change this year was the placement of food trucks. This was much welcomed over the carnival style food that was served last year, and I believe much more in line with the tastes of the goers of this type of event, so my hats off to the world beer folks for making that happen.
Of course this is a beer blog so let's talk about beer. At an event of this size, it's hard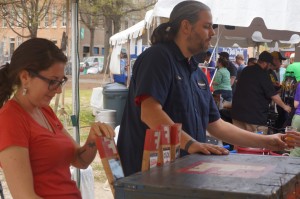 to get around and try everything, and we even saw a couple of folks tap out pretty quicky. Of course we made our rounds to the exterior booths that had beers from breweries like New Belgium and Goose Island, but as NC beer folks, we hung around the local beer tents just a bit more. They had favorites from local state breweries like Fullsteam, Beer Army, Raleigh Brewing, Southern Appalachian, Big Boss, and more. Two local breweries had some special beers on hand with White Street bringing Koschei the Deathless and Crank Arm bringing the
"BeerFestBeer" that they collaborated with All About Beer (who put on the festival itself -you can read about that here).
From games to live music they had all the bases covered this year while you enjoyed your beer fest experience and honestly, they outdid themselves this year! We are very interested to see how they top this at next year's Raleigh Beer Fest, but then again the Durham Beer Fest is right around the corner!