Bad puns aside, it's time we get back to blogging.
They say orange is the new black, and I've also heard that sour is the new hoppy. Though I'm quite sure they will never see the same level of popularity as hoppy beers, it's undeniable that sour beers are now reaching a mainstream status.
With that in mind, we dug into the cellar to taste three beers that vary in style, origin, and most importantly, tartness.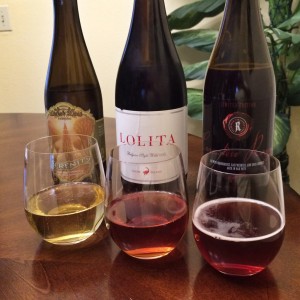 First up was a fairly new North Carolina beer from the Asheville brewery Wicked Weed. Serenity is a wild ale from 100% Brettanomyces open fermentation and barrel aging. We found it slightly tart, yet dry and refreshing. The carbonation was near perfect. It's easy to see why this won a gold at GABF.
Next up was the Goose Island Lolita, another wild ale. The color was a light ruby brown, quite reminiscent of a young tawny port. It was tart, but not biting, with bright fruit flavors and a strong finish.
We finished with the Rodenbach Caractère Rouge, a Flanders Red from Belgium. This spent just over a year in the bottle before opening. It poured a beautiful ruby color with powerful cranberry and cherry aromas. Big fruit on the palate with a lingering tartness. The only flaw I could find was that it was slightly over-carbed, but not enough to elicit more than a passing notice of it.
So hopefully we'll be back with more frequent posts now that Pumpkin beers will be knocking on the door soon (I wish I was kidding). Until then, cheers!