Foothills Brewing & Wil Wheaton Join Forces!
It goes without saying that Tom and I are big fans of Wil Wheaton. I just finished listening to audiobook version of "Ready Player One" which was narrated by Wheaton and think he did an excellent job. We are happy to see Foothills and Wil come together on July's IPA of the month which features Wil & Anne's dog's Seamus and Marlowe. You can read all about it below.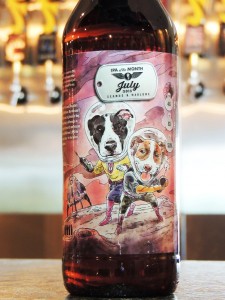 Wil and Anne Wheaton join the #FoothillsIPAdog family Big Bang Theory star's dogs featured on July IPA of the Month label

Winston Salem, NC – North Carolina has long been a favorite for shooting films. Now another little piece of Hollywood has come to North Carolina. And this one has four legs. Technically eight.

Film/TV/internet star and author Wil Wheaton and his wife Anne, both longtime animal welfare advocates, have agreed to feature their pit bull rescues Seamus and Marlowe on the label of Foothills' July IPA of the Month.

"I'm really happy and grateful that our dogs get to be part of this project," said Wil. "I've loved all the other dogs and their stories, and it's really cool that Seamus and Marlowe get to be in such great company."

Foothills IPA of the Month began in 2014, with the labels featuring vintage calendar pinup-style art. This year the brewery held a social media contest using the hashtag #FoothillsIPAdog to crowdsource dogs for the 2015 labels.

So how does a Hollywood star become familiar with a brewery in North Carolina? Blame Sexual Chocolate, Foothills' iconic, award-winning Russian Imperial Stout. Wil, who is an avid craft beer consumer and home brewer, got his hands on a bottle, and "I became a fan of Foothills before the bottle was empty. Since then, we've had a bunch of Foothills beers, including the #FoothillsIPAdog releases."

While a fan of Foothills, Wil's primary goal for participating in the #FoothillsIPAdog series is to further advocate for animal rescues and humane societies in general, and pit bulls in particular.

"I thought it would be awesome to have my dogs on a label," he said, "because I love them, I love IPAs, and I love letting the world see how wonderful pit bulls are, contrary to some of the pernicious myths surrounding the breed."

An integral part of the series has been Foothills donating to a rescue organization in the community where each 'label dog' lives. The Wheatons have selected the Pasadena Humane Society, where Anne is a board member, for Seamus and Marlowe's donation.

"We're proud and honored to have Seamus and Marlowe join the Foothills family," said Ray Goodrich, Marketing Director for Foothills Brewing. "We started this contest because we realized there's a lot of traffic at the intersection of 'dog people' and 'craft beer people'. Wil and Anne are terrific examples of that, and we couldn't be more grateful for their participation."

July's IPA was brewed with CitraTM, ChinookTM and Sorachi AceTM hops, with a unique addition of kiwi and lime during dry hopping.

For more on Wil Wheaton, check out his award-winning blog at wilwheaton.net. ∞

ABOUT FOOTHILLS BREWING

Opening in March 2005 in Winston-Salem, NC, Foothills Brewing has evolved into one of the top craft brewing operations in the southeast United States. Ranked among ratebeer.com's 100 best breweries in the world, Foothills has garnered numerous awards for their beers, including seven Great American Beer Festival medals and three World Cup Beer medals, more than any other North Carolina-based brewery.

Foothills brews more than twenty year-round and seasonal offerings, including best sellers Hoppyum IPA and Carolina Blonde. Year-round brands also include People's Porter and Torch Pilsner; seasonals include Cottonwood Pumpkin and the highly anticipated Sexual Chocolate Imperial Stout.

In January 2011 Foothills acquired the Carolina and Cottonwood beer brands, adding to an already extensive portfolio of beer styles. In December 2011 Foothills expanded their brewing operations from their popular brewpub in downtown Winston-Salem to a 48,000 square-foot facility in southwest Winston-Salem, allowing for increased development of six-pack and 22-oz. bottle production. 2013-14 saw the addition of four 200 BBL and four 300 BBL fermenting tanks, increasing potential brewing capacity to approximately 52,000 barrels annually. In April 2015, Foothills opened a 28-tap tasting room at their main production facility.

Foothills, Cottonwood and Carolina brands are distributed by a network of top-level distributors in North Carolina, South Carolina, Tennessee, Virginia, and Washington D.C.

For more information about Foothills please visit foothillsbrewing.com.