Foothills Brewing Opens New Tasting Room
"After ten successful years in downtown Winston-Salem, Foothills Brewing opened the doors to a second location, a tasting room in their main production facility located at 3800 Kimwell Drive in southwest Winston-Salem.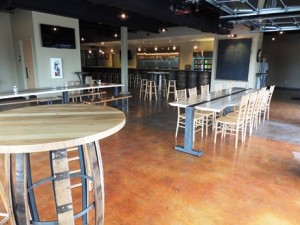 Foothills signed the lease for that facility in December 2010 – and eventual plans for a tasting room began almost before the ink was dry.
"Part of opening any brewery should be having your beer available for tasting," said Jamie Bartholomaus, President and Brewmaster. "We knew getting up and running was our main priority, so we've been focused on that for the last few years. Fortunately we got to a point where it made sense to make the Tasting Room a reality."
Added co-owner Matt Masten, "We're pretty excited about this space. It's unique for us and unique for the Triad. Those familiar with our pub will be able to enjoy their favorite Foothills beers in a whole new environment.  It's also a chance for our customers to see firsthand how a regional brewery operates."
That's right; in conjunction with the opening of the Tasting Room, Foothills will for the first time offer tours of its production facility. Tours will initially be offered on weekends only; Saturdays at 1, 2 and 3pm, Sundays at 1 and 2pm.
Foothills completed the purchase of their building in May 2014, and ground was broken for the Tasting Room on December 14th last year. Wilson & Covington Construction of Winston-Salem handled the buildout of the space.
The Foothills Tasting Room features 28 taps, pouring everything from core brands to seasonals to 'one-offs' and special project beers. While not equipped with a full kitchen, locally sourced bar snacks, including Gone Jerky, Chad's Carolina Corn, and Black Mountain Chocolate, will be offered.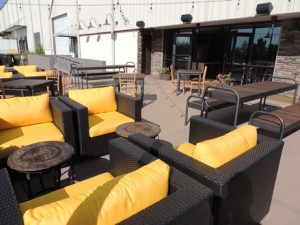 The room design is comfortable and stylish, with a large outdoor patio complementing the interior space. Much of the furniture was built from reclaimed wood, and 50-year-old Peruvian rum barrels were used for the bar facing.
Foothills will throw an Opening Party at the Tasting Room on Saturday June 20. Details to follow.
Foothills Tasting Room hours:
Monday               Closed
Tuesday               Closed
Wednesday         3-8
Thursday             3-8
Friday                   3-10
Saturday              11-8
Sunday                 12-6
ABOUT FOOTHILLS BREWING
Opening in March 2005 in Winston-Salem, NC, Foothills Brewing has evolved into one of the top craft brewing operations in the southeast United States. Ranked among ratebeer.com's 100 best breweries in the world, Foothills has garnered numerous awards for their beers, including seven Great American Beer Festival medals and three World Cup Beer medals, more than any other North Carolina-based brewery."
Foothills brews more than twenty year-round and seasonal offerings, including best sellers Hoppyum IPA and Carolina Blonde. Year-round brands also include People's Porter and Torch Pilsner; seasonals include Cottonwood Pumpkin and the highly anticipated Sexual Chocolate Imperial Stout.
In January 2011 Foothills acquired the Carolina and Cottonwood beer brands, adding to an already extensive portfolio of beer styles. In December 2011 Foothills expanded their brewing operations from their popular brewpub in downtown Winston-Salem to a 50,000 square-foot facility in south Winston-Salem, allowing for increased development of six-pack and 22-oz. bottle production. 2013-14 saw the addition of four 200 BBL and four 300 BBL fermenting tanks, increasing potential brewing capacity to approximately 52,000 barrels annually.
Foothills, Cottonwood and Carolina brands are distributed by a network of top-level distributors in North Carolina, South Carolina, Tennessee, Virginia, and Washington D.C.
For more information about Foothills please visit foothillsbrewing.com.